Established in 2016 on the quays of the 5th arondissement, Le Vent d'Armor features among the capital's finest fish restaurants. At the stove, chef Nicolas Tribet serves traditional, flavoursome and generous dishes to the delight of locals and tourists alike. Front of house, sommelier Olivier Friant curates a selection of the finest wines and champagnes. The duo welcomed Champagne Abelé 1757 to reflect on their respective journeys thus far and their passion for the profession.
Tell us about life before Le Vent d'Armor?
Nicolas Tribet : I'm originally from Barry in the Centre region of France. I began my training as a chef with a CAP diploma working at La Cognette restaurant in Isoudun (www.la-cognette.com), and then continued my studies at the Ferrandi school in Paris (www.ferrandi-paris.com/fr). Once I qualified, I was given the opportunity to perfect my technique while doing military service at the Elysée Palace.

It was around that time that Guillaume Gomez, former chef at the Palace, put my name forward to work with Jacques le Divellec, a well-known chef specialising in all things fish. The chefs were also from Berry ('Berrichons'), and we just clicked. For almost fifteen years, they passed on their passion for fish; this sensitive, soft and delicate food.

When Jacques closed the restaurant in 2014, I wanted to give it a go myself. After much research, I came upon a small restaurant at a great location on the quays. Olivier came on board along the way and we decided to work together in this new venture which would become Le Vent d'Armor.
Have you ever had a 'cooking' mentor?
Nicolas Tribet : Being able to meet passionate chefs makes all the difference to a career. My mentor is and will always be Chef Jean-Pierre Foing. who worked for more than thirty years at Divellec restaurant. A lifelong career at the stove, known for his impeccable quality and exceptional standards. Jean-Pierre taught me everything I know and passed on this passion for cooking.
What is your philosophy as a chef?
Nicolas Tribet : A flavoursome and generous cooking style with generous portions. The kind of food I love to serve. We only prepare whole fish of exceptional quality. It's really traditional French cooking, rich in flavour. Making our customers happy is our ultimate aim.

Every morning, our suppliers deliver the fish whole, so with their heads, scales, everything. Depending on the season, we cook what the ocean provides. It's important to work in tune with this rhythm, and shape our menu around the availability of supplies. It's the guarantee that we always work with super fresh ingredients.

This consistent quality approach has been an on-going theme from the very outset. And this will never change.
Would you say some dishes are more complex to create than others?
Nicolas Tribet : There's nothing particularly easy about cooking to be honest. You have to be at the top of your game when it counts. When we make sauces, such as hot butter emulsions, everything is unstable. You need to be trained and able to master these techniques to maintain high quality levels of service.

Rigour is all part and parcel of the job when you are at the stove. When I was at Divellec, our chef Jean-Pierre Foing shared his love of belle cuisine. When he was at work, his approach was totally uncompromising and nothing got passed him. It had to be perfect. There was a line, which everyone had to respect. If one of us started to take our foot off slightly, it wouldn't go unnoticed for long. Cooking as a career is a passion, where everything has to be learnt. You just have to be disciplined and know your place.
What is your relationship with time in your line of work?
Nicolas Tribet : It's all a question of rhythm and communication. We are lucky to have worked together for a very long time. We know each other's jobs inside out, and know what is entailed. When our customers are seated, they need to enjoy their food at the same time. This requires precision timing. Once the food is ready, we've got 15 seconds to get it to the table.

More generally, in cooking, everything happens at a specific time. Every week, we have the same routine: the doors open at 9am, the fish is delivered, service, cleaning, then setting the tables all over again. We make the most of a well-earned two-hour break before doing the whole process again at 6pm to midnight for the dinner service. It's pretty full on, and we do this six days a week.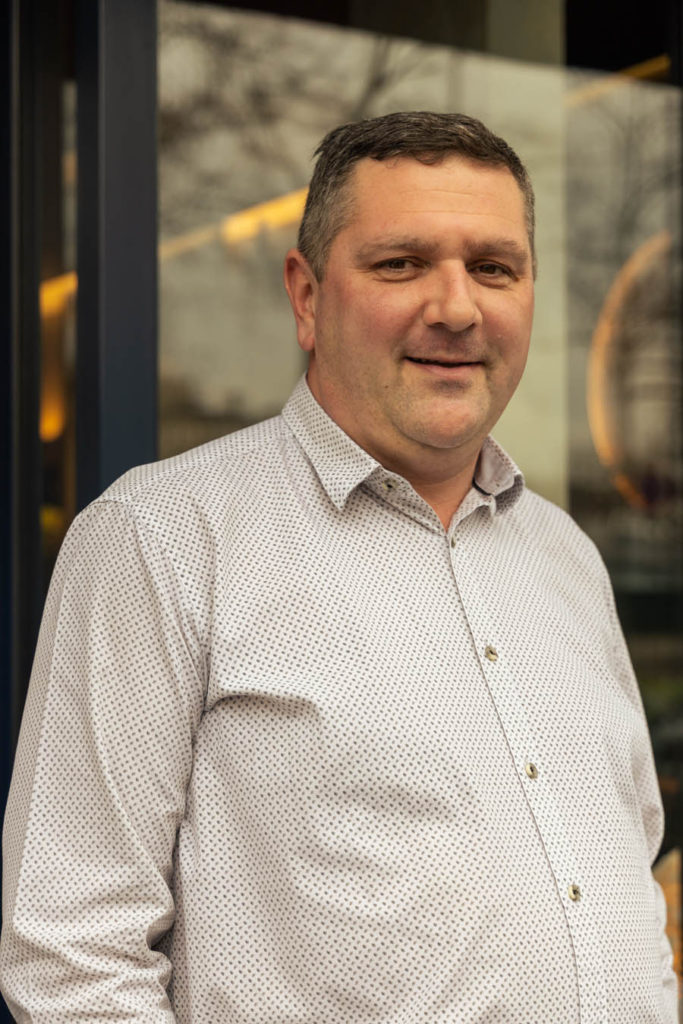 What did you do prior to Le Vent D'Armor?
Olivier Friant : I started with a CAP diploma while working at the Relais Châteaux La Forestière in Saint-Germain-en-Laye. I continued with an additional qualification as a sommelier, which was when I got a lucky break and went to work for a year at La Tour d'Argent. It was an incredible experience. After working as a junior sommelier at Michelin-starred Relais d'Auteuil restaurant alongside Patrick Pignol, I too joined Divellec restaurant, where I worked for 18 years.
Is it true that becoming a sommelier is rather like entering the church?
Olivier Friant : Yes, a bit like that (laughs). 'Sommellerie' is a small world that isn't always easy to access. It's a very technical discipline which requires extensive knowledge. Like cooking, it's essentially a passion, where we learn a lot every day. It's a fascinating world.
What is your role at Le Vent d'Armor and how do you work with Chef?
Olivier Friant : As a sommelier, I work in close collaboration with chef. We regularly taste all the dishes on the menu to make absolutely sure we are serving the very best produce. I've also been lucky to have worked with the suppliers for more than 25 years. Over time, they are able to suggest wines that fit my requirements exactly.

If we are sure when we taste a wine, we list it. With the chef, we only select what we love. Flavoursome, rich wines with good balance and very long on the palate; everything I love to have a good time. Depending on the current menu, we adapt our wine suggestions for customers on the spot.
Could you tell us about the art of service?
Olivier Friant : Just like the restaurant, everything has to be perfect in order to deliver the very best quality to our customers. Wine is an integral part of French art de vivre. Tasting wine is essentially about pleasure. It must be enjoyable and pleasing, without necessarily being overly complicated.

When we present a bottle of champagne to our clientele, we take time to explain a few points such as the appellation, the cru, the Champagne House and if applicable, the vintage. This done, we open the bottle as discreetly as possible, and serve the customers. At the end of the day, it's not so much about ceremony as a ritual.
How do you manage to work out what your customers like?
Olivier Friant : It's extremely challenging to guess a customer's tastes beforehand. Which is why we have to know our wines extremely well. And for this, we take the time to chat with our customers, so 'Which wines do you like? Do you prefer red or white? Dry or fruity?' These simple questions help to get it spot on. If too technical, the customer is lost in your explanations.


Depending on the dish and the likes and dislikes of the diner, I suggest the wine which will go perfectly with the food. Coming up with suggestions without knowing the person in front of you is always a challenge. But with a bit of practice and experience, we always manage to find something for everyone.
Do you see yourself as more of a guide, a story teller or a teacher?
Olivier Friant : There's always an opportunity to surprise our customers, not least with the food prepared by Chef. Our priority is to build our customers' trust, without them feeling intimidated. Appreciating wine is very personal. You have to be patient, and avoid lecturing the customer. In my experience, only 5% of customers are experts. The vast majority of wine lovers just want to enjoy a nice glass of wine without it being stressful. All very relaxed.

In our restaurant, essentially we aim to please and ensure our customers have a good time. On the other hand, if a customer shows an interest and wants more information, it's always great to explain how the winemaking process and the different technical stages required to make champagne.
How do you keep up to date with the latest wine trends?
Olivier Friant : There are so many opportunities, especially in Paris. The capital is literally brimming over with places specialising in wine. It's a way to discover new wines from all over the world. Depending on my rota, I may also pop into the local wine-merchants to see if they have anything new for me to taste.

And then we also make the most of meetings with our fellow sommeliers in the local area to bat a few ideas about and discuss what we have tasted recently. At the end of the day, it's a whole range of things that keep us constantly on our toes.
Tell us about when you met Maison Abelé 1757?
Olivier Friant : I've been working with Maison Abelé 1757 for almost 25 years. Over the course of my various experiences, there's always been a bottle of Abelé Champagne on the wine list. When I was lucky enough to be working as chef sommelier at Divellec, our suppliers put on a tasting of the entire range. The cuvées are among my favourites. When Le Vent d'Armor opened in 2016, we immediately thought of Champagne Abelé 1757 for our wine list.