Perched 210m in the sky, Ciel de Paris is the go-to destination to savour sweeping views of Paris and the iconic Eiffel Tower. Long since considered the highest restaurant in France and Europe alike, this stunning feat of design serves the great classics of French cuisine to attract food lovers the world over. Director Antoine Marillier and chef Christophe Marchais take us to the dizzy heights of the 56th floor of Montparnasse Tower for a cloud-busting Q & A in this iconic setting.
Tell us about yourself and how you work together as a pair?
Christophe Marchais : As chef, my role is to manage the kitchens at Ciel de Paris restaurant. This covers a wide range of responsibilities, from designing and developing menus, managing stock levels and deliveries, to organising and supervising kitchen staff. Antoine Marillier, Director, oversees the restaurant as a whole. Together, we have forged a close working relationship, where we have very specific roles, both in the kitchen and the restaurant.

Antoine Marillier : For me, I'm fortunate to be able to work with a true professional. As soon as I joined the restaurant, it was the beginning of a partnership based on trust and give and take. Given his many years' experience at Ciel de Paris, Christophe Marchais knows the clientele and their needs, inside and out. Based on his insights, feedback from the clientele and the seasons, together we build a strategy for the restaurant.
How did your career begin?
Christophe Marchais : My career as a chef began in 1989 with an apprenticeship in Charente, my home town. Before moving to Paris to learn the ropes, I was fortunate to train alongside one of the greatest chefs of our time, my mentor Jean-Marie Meulien (Note from the editor: 2-starred Michelin chef at Clos Longchamp, Paris.)

After that, I continued my training in France and abroad. First here in Paris, at La Grande Cascade restaurant, at Louis XV with Alain Ducasse in Monaco, at Spoon at The Sanderson Hotel, London, and lastly, at Midi South of France in New Orleans.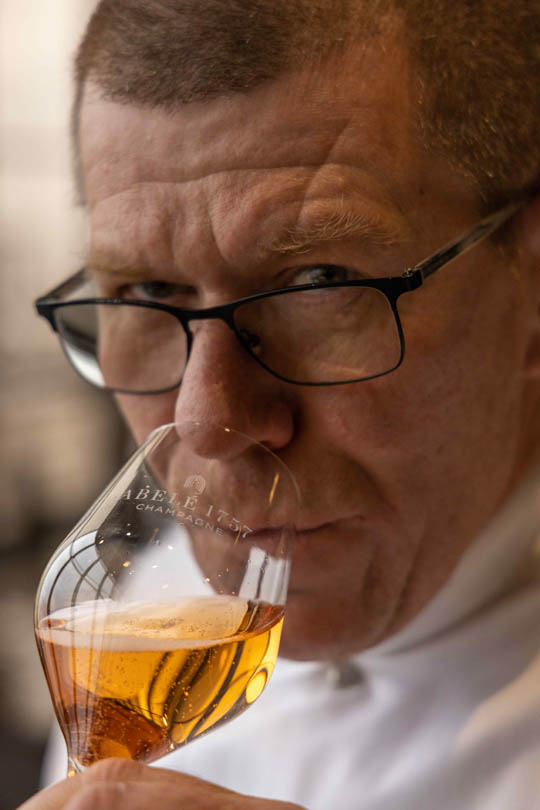 How would you describe your signature cooking style?
Christophe Marchais : My menu changes significantly with the seasons. Vegetables, fish and meat tend to vary depending on availability, so we can serve super fresh produce on a daily basis. At the moment, scallop season is in full swing and as a team we are working on putting a new spin on this great classic. Yet I have to admit that fish and spices are a huge influence on my cooking.

In order to serve French food seeped in modernity, I look for inspiration all around, from my colleagues or fellow restaurants in Paris, in magazines and cookbooks, or in our daily team meetings.

My suppliers have a part to play too. They regularly come up with new, local, and again, seasonal products. It's important for a chef to monitor trends and successfully embrace them in their cooking.
How would you create the perfect pairing with Abelé 1757?
Christophe Marchais : the first step is tasting the champagne to really understand the flavour profile. Depending on the aromas and balance, we would suggest several dishes that would work really well with the Champagne. Our objective is first and foremost to respect the products, without either one becoming too predominant.
There is no perfect pairing. It's all a question of taste, even if pairing champagne with dessert is a popular choice. Personally I like to pair the Blanc de Blancs Abelé 1757 with white-fleshed fish or caviar.
Tell us about your background before heading up Ciel de Paris?
Antoine Marillier : My role as head of Ciel de Paris came about almost by chance. After my initial training at catering college, I spent twenty-five years in various establishments across France. It was a rich and varied experience and an introduction to many different worlds, and expectations.

A few years ago, I was looking for a change and enrolled at management school in Paris. . Quite apart from the need to develop professionally, I wanted to be able to provide greater support to my teams. I was then offered the job at Ciel de Paris as part of its transformation. It was a total redesign and refurb, which saw the restaurant completely evolve as a result.
What kind of experience do you offer guests at Ciel de Paris?
Antoine Marillier : breathtaking views, without a shadow of a doubt. The vast majority of our clients request a table near the windows to view Paris from the 56th floor. At 210m high, the capital is totally laid bare and each monument appears diminished to doll-sized proportions. Day and night, the Eiffel Tower stands in all its glory, giving our guests the impression they can reach out and touch its splendour.

Yet, it's important to stress that Ciel de Paris is an experience everyone can enjoy. We have no aspirations to be branded elitist or out of reach. Given the spectacular views, the setting and the quality of the food, Ciel de Paris lends itself to many different moments of the day. Just like a metronome, time is the beating heart of our restaurant. In the morning, there's a certain serenity to the atmosphere, and the perfect time to have breakfast overlooking the Eiffel Tower.

At lunch, tourists rub shoulders with corporate clients. In the evenings, it's a livelier, buzzy vibe, attracting a diverse crowd. We have guests who come to declare their undying love, while others celebrate various life moments. And as the evening advances, the party people see our restaurant as a starting point for a great night.
Tell us why you devoted the bar to champagne?
Antoine Marillier : During the renovations, interior designer Noé Duchaufour-Lawrance introduced a series of circular mirrors across the entire ceiling. In addition to the aesthetic appeal, it's an obvious reference to bubbles and effervescence. It only seemed right that France's noble, celebratory product is celebrated in the highest restaurant in Paris and Europe.

For us it's a real pleasure to be able to elevate, share and introduce to our French and international clientele, a product, which like our food, requires extensive preparation. It's about passing on to our guests the very essence of a product, in a moment that will stay with them for a very long time.
What are the qualities that attracted you to Maison Abelé 1757?
Antoine Marillier : : it was the passion and intimate size that really impressed us about Maison Abelé 1757. It's important to share the reasons why we work together with those around us. When we meet the representatives of a major Champagne House for the first time, we are very aware of the tiniest details, how they come across, the stories they share. All this is really important.

Then the Champagne Abelé 1757 ambassador introduced us to some of the key contacts, including Cellar Master, Étienne Eteneau. To meet such a personality was for me the catalyst for our current collaboration. His down-to-earth character and his passion for the product and great knowledge, really instilled in me the desire to work together. Champagne Abelé 1757 has a distinct set of rules and values that really resonate. This is just one of the reasons why I enjoy working together and seeing our partnership grow and flourish.
What is your relationship with time?
Antoine Marillier : The very first moments of the day are hugely important to me. When you work at Ciel de Paris, your day is very much dictated by time. We should stop and think about how to make the most of the passage of time and ensure our clientele can enjoy every second of this spectacular setting.

The weather, the light, the vista, everything is shaped by the time of day. These moments are magical, and clearly reflected in the eyes of our customers. For some, they are seeing Paris, the Eiffel Tower and our restaurant for the very first time. Their faces light up and the wonderment is evident in a matter of seconds. These moments of pleasure are pure magic.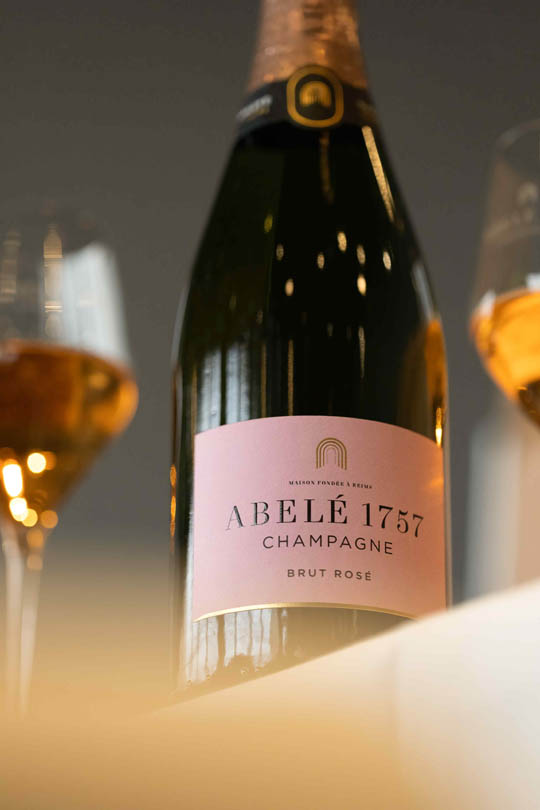 Where did your knowledge of the world of champagne and the Champagne region come from?
Antoine Marillier : I'm from Champagne so I know it very well. Even as a young boy, I used to pick grapes during the harvest. And given my background, this is one of my favourite wine regions. From looking after the land to picking fruit, this wonderful profession is in my blood.

Growing up in Champagne gave me a thorough knowledge of the region and its terroirs. When it comes to taking on new champagne listings, these almost instinctive notions steer and finetune my choices. It helps me avoid the inevitable pitfalls that come with only knowing the classic names of a wine region. Yet this doesn't detract from the importance of tasting the product, and engaging with the brand ambassador.

Spending time with the professionals essentially provides a real insight to all the hard work that goes into champagne, that we in turn can pass on. Being able to share this information is a real achievement, both for our staff in the restaurant serving the champagne or those pairing it with food. They really need to embrace the brand philosophy and the technical aspects, so that our customers in turn are satisfied and proud to discover such a great quality product, like Abelé 1757 champagne.