Established June 2020 by Marie and Marceau Bardout, Marsault combines a passion for wine with handmade craft. The brother and sister duo behind this sustainable business were keen to come up with an original idea to give Champagne bottles a new lease of life. Inspired by upcycling, together they hit upon the bright idea of transforming this raw material into elegant, handcrafted scented candles. And creating handmade-to-order products reflecting the same exacting standards synonymous with Abelé 1757. We met with the duo behind Marsault and were treated to a unique insight into their approach.

How did the idea for Marsault come about? How is it different from other concepts?

Marie: Marsault came to light in the middle of lockdown, a year ago now. It's a combination of two distinct crafts: candle maker and glassmaker. As much work goes into the external element, the glass, as the candle wax on the inside, which is what sets us apart from our competitors who only focus on part of the process.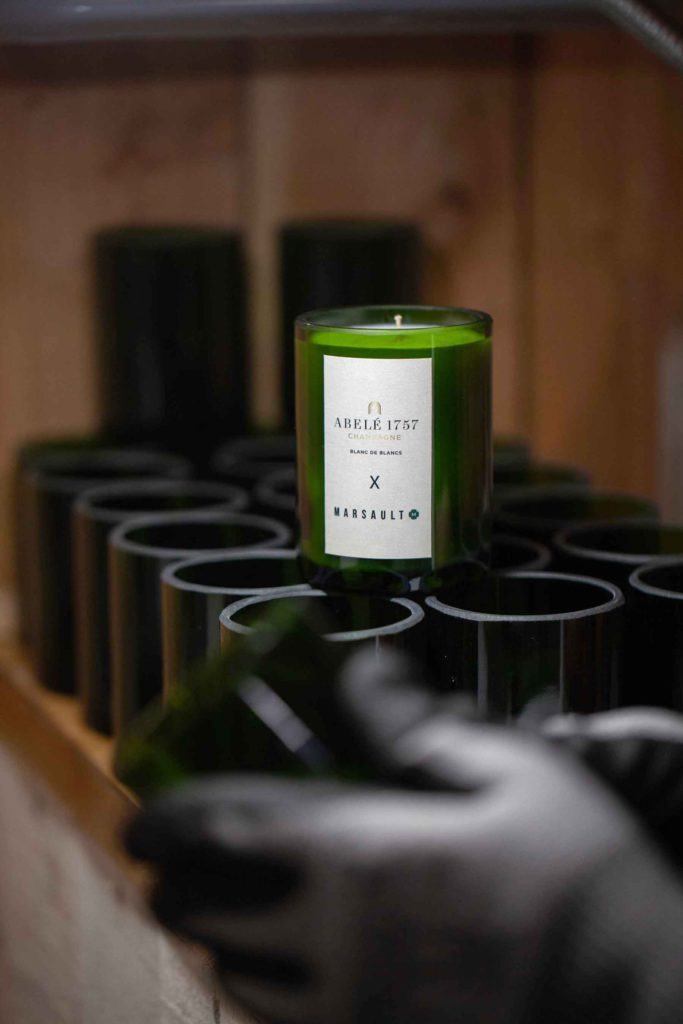 Can you tell us about Marsault's environmental approach to candle-making?

Marceau – Sustainability lies at the heart of Marsault. The idea is to repurpose used Champagne bottles that would otherwise be destined for landfill or recycling, by giving them a second life. We would never consider using an environmentally-friendly glass container without suitable materials that also fulfil the brief.

Marie – Which is essentially why all the materials we use are eco-friendly. The wicks are made from non-treated wood or organic cotton. Our perfumes are entirely free from CMR* substances, and for the wax, there are three different materials on the market: mineral, animal and plant-based. The first is a by-product of paraffin, which is harmful to the environment and not good for the home either. The second comes from beeswax, and finally, the one we use, is plant-based, made from soy and coconut.
How was the idea received in its early stages?

Marie – It all started in Mum's kitchen. It was more about having something to keep us busy during the first lockdown. It was organised chaos (laughs). [rire]. We started by making only three candles a day. Our first customers were family and friends. Then it just took off, really quickly. A first listing in a shop, then a second and so it went on. Today our candles are sold in around 10 shops across Reims.

So why handmade candles?

Marie – It's not so much the craftsmanship. Our family is really 'crafty' on the whole. We like to sew, do DIY, sketch and paint. Marceau even makes his own furniture. We were quite relaxed about the idea of creating something with our hands. Nothing was planned in advance, more just a chain of events.

So why champagne bottles for your candles?

Marceau – Basically because we live in Champagne. Materials are in plentiful supply in the region. And recycling takes up lots of energy, especially to melt the glass, which has to be heated to several thousand degrees. We felt it was a real shame for the bottles to go to waste, so we thought about how we could give them a new lease of life. And that's when we came up with the idea of making candles.

How exactly is a handcrafted candle made at Marsault?

Marceau – We didn't realise at the time, but it's a long, complicated process, and took several trials to perfect. First, we collect the used bottles from growers and tasting rooms in local wineries. Once the bottles have been sorted, we can move on to the transformation process, which entails cutting and grinding each bottle with a diamond blade. An initial cleaning stage is required to remove any residue from its original use, and then we attach the wick, which is done by hand for each candle.

Meanwhile, we prepare the wax. There are several key stages. It takes 2 hours for the wax to transform from a solid to liquid state. Once at the correct temperature, it can be poured into each glass holder. It then takes a further 24 hours to set. We then re-melt the surface of the wax to make it really smooth. Each candle is then cleaned, labelled and packed by hand. Every step is performed entirely by hand.

How important was it to create a candle that lasts?

Marie : We have a saying that sums up Marsault's philosophy to a T: "For those wanting something that looks good and is sustainable too." When we set up our company, we wanted to create something that was aesthetically pleasing and that keeps on giving. Something you can keep in the home as a decorative object in itself.

To stay true to our environmental approach, we also needed it to be sustainable. And once used, could be used as a small vase or even a stationery holder, which is why we include instructions inside the packaging on how to clean the container, and essentially, why it is important to keep it.

Montagne de Reims, Champenoise and Blanc de Blancs – Can you tell us about the connection between the candle names and Champagne?

Marceau : Our candles are named after Champagne regions. Our 'Cote des Blancs' candle is plant-based and smells of figs, fresh grass and coconut, which is a nod to the Chardonnay cultivated in this area. The 'Montagne de Reims' candle is much sweeter and rounded, releasing aromas of Tonka bean, vanilla and white musk. And lastly, 'La Champenoise' reflects the complexity of the champagne region, giving off notes of Ylang Ylang, black tea, saffron, leather, suede and incense.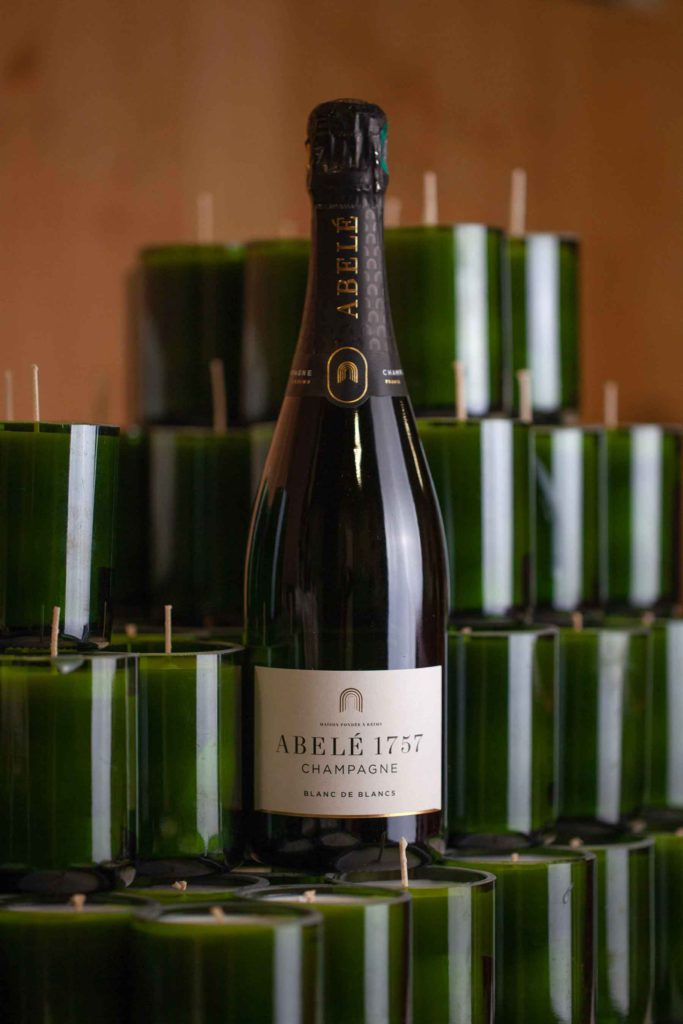 In the same way as wine and blends, how do you manage to combine different perfumes and find the perfect balance of aromas?

Marie : All the perfumes have been developed blind in collaboration with our partner. . To start with, it was just a series of possible concepts. We smelled different perfumes, those we liked and those we felt were most representative, in our mind's eye, of the wine sector. And depending on our feedback, they developed what our selection, as closely as possible to each aroma profile.

So what's next for Marsault?

Marceau : We have lots of ideas! Upcycling bottles and candles is here to stay, but the development stage always takes the most time. We really want to keep both sides of the business, candle-making and glass making. Our plans are on-going in both these areas, but for now, it's under wraps. (laugh) [rire].
Text – Geoffrey Chateau | Photo – Julien Gérard-Maizières