With the inception of Sydonios in 2017, Antoine Schwartz and Baptiste Larbre set out to preserve the ancient and inestimable tradition of mouth-blown glass, in true artisan style. Today, this vision is perfectly encapsulated in a glassware collection defined by finesse and harmony. For Maison Abele 1757, Antoine Schwartz looks back on this artisan craft and cultural practice now added to Unesco's List of Intangible Cultural Heritage.
How did the Sydonios concept all start?
Baptiste and I, that's my business partner and childhood friend Baptiste Larbre, have always been on the look-out for a new business venture. And before launching Sydonios, I was lucky enough to have spent four years as a wine broker in Bordeaux.

Working in wine is a way to be in constant contact with the most prestigious wine estates. Over time, I noticed a need for fine, light glassware of the highest quality. But all the existing brands weren't able to break into the Bordeaux Chateau market.

Sydonios was born of this gap in the market, simply through the realisation that: "If we can create high quality glassware specifically intended to enhance the wine tasting experience, we will have a viable business model".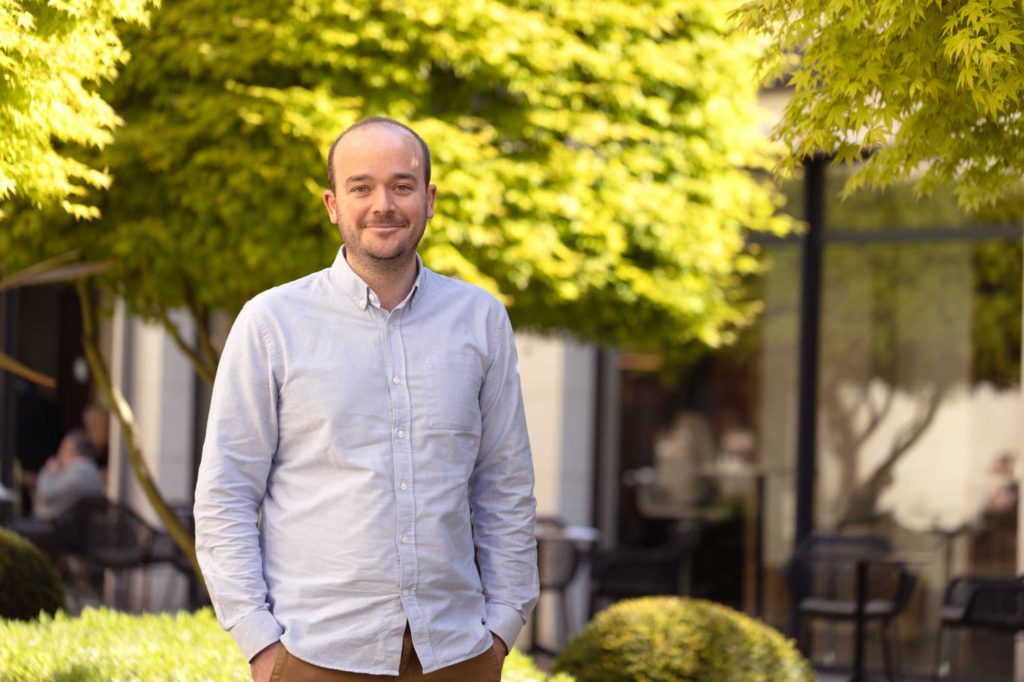 Can you tell us what makes up the Sydonios DNA?
The company's DNA is made up of two key elements, starting with precision. We spent over a year undertaking scientific research involving more than 100 leading figures from the world of fine wine. The research took considerable time and energy, particularly when creating a company from scratch.

To ensure the research was robust, we worked in conjunction with AgroSup Dijon. We designed and tested seven glasses using six wines with deliberately contrasting sensorial profiles. At the end of the study, we selected two glasses based on the quality of the tasting experience, and eventually took these to market. For us, the correlation between the nose and palate is essential.

Precision in production is also extremely important. With handcrafted glass there are inevitably inconsistencies that are inevitable with this artisan technique. To achieve this level of precision, we introduced a quality control process for every single glass. Our glasses adhere to the most stringent set of quality standards. Whether it's a problem with the shape of the glass shape or the packaging, not a single flaw is permitted. These exacting standards make all the difference.

The second element is our commitment to produce as locally as possible. Of course creating a glassware brand means looking for the expertise wherever you can. And currently, the supreme skill required to craft quality mouth-blown glass only exists in Bohemia (ndlr: Czech Republic) the nearest location.

Everything else, from packaging to quality control, takes place in France. It's very important for us, and will result in the short term in to production in France. Bringing this expertise back to France is integral to our vision of the company.
How do the different glass shapes in the Sydonios collection influence the wine tasting experience?
The research we carried out initially was reliant on reading every scientific paper published on the impact of glassware in wine tasting. We learnt that the most important aspect is the ratio between the widest and the narrowest parts of the glass, (the rim).
As part of this research, we tested different ratios. Once we had done the calculations, it was the role of the glassmaker to determine the proportions that will offer the greatest precision during tasting. Obviously we don't profess to craft the best glass for every type of wine. Sometimes, it may be that a competitor's glass is best suited to a certain wine.
Crafting a mouth-blown glass is a process involving a series of very specific steps, from the initial idea, to research and conception. How long does this process take?
In 2017, we started from a blank sheet of paper. We delivered our first glasses to the most prestigious estates in March 2018. So just over a year from design to delivery.

At the time, this seemed very long. As project leaders, we thought it would all be wrapped up in just a couple of months. But we soon came up against many obstacles of every sort, from manufacturing, production and quality, to market research. With hindsight, this was relatively quick. Given the current demand for mouth-blown glass, it takes around two years from creation to market launch.
When creating your glasses, what has been your approach with regards to glassmakers? Can you tell us specifically how each Sydonios glass is unique?
When we launched the business, we had two objectives in mind: finesse and balance. For the former, we had our research and technical drawings. For the latter, we had to counterbalance the bowl of the glass with the stem. You can play with different diameters to affect the weight. You can also modify the thickness of the glass, which will also have a direct impact on weight.

For a single glass, we tested up to 16 prototypes to be sure to attain the optimum balance during tasting. This aspect has been a significant part of our journey and explains how Sydonios glasses are different.
What essential qualities are required of a master glassmaker?
Our production method is quite unique. We sometimes refer to 'drawn stems'. To achieve this particular technique and obtain great lightness, while maintaining consistency of shape and production levels, it takes 15-20 years' experience. It's a skill that needs to be learnt very young.

Regrettably this skilled craftsmanship no longer exists in France and is becoming lost in other countries too. This is one of the reasons why we wanted to relocate our production site to France from October 2022.
How is the way you create your glassware similar to the production of fine Champagne?
We met with more than fifty growers from each wine appellation in France. So the 'stars' of the wine world, even if I'm not altogether comfortable with the expression. They have always been looking for the perfect glass for their appellation, and despite testing many different glasses, many have never succeeded.

By allying our scientific approach with their more practical way of working, we were successful in designing our first glasses. Combining the growers' history with our scientific and academic approach made all the difference. This was an industry first in glassware. Of course, no research is perfect; it can be quite subjective, but we found the approach to be of great interest.

To ensure we achieved the perfect result, we tested our glasses using the most representative wines from each French appellation. To do this well, we could almost have created a glass for each grower, for each appellation, and even for each vine row, but obviously this wasn't feasible. We had to limit our production to just six wines, and rationalise our approach to end up with a precise, coherent range.

In the end, the three-pronged approach of scientific research, the growers' experience and technical design, led to a tasting event involving more than 100 wine trade professionals, including growers, winemakers, sommeliers, brokers and coopers. We tried to remain as representative possible. By proceeding in this way, we were relatively successful with wine estates.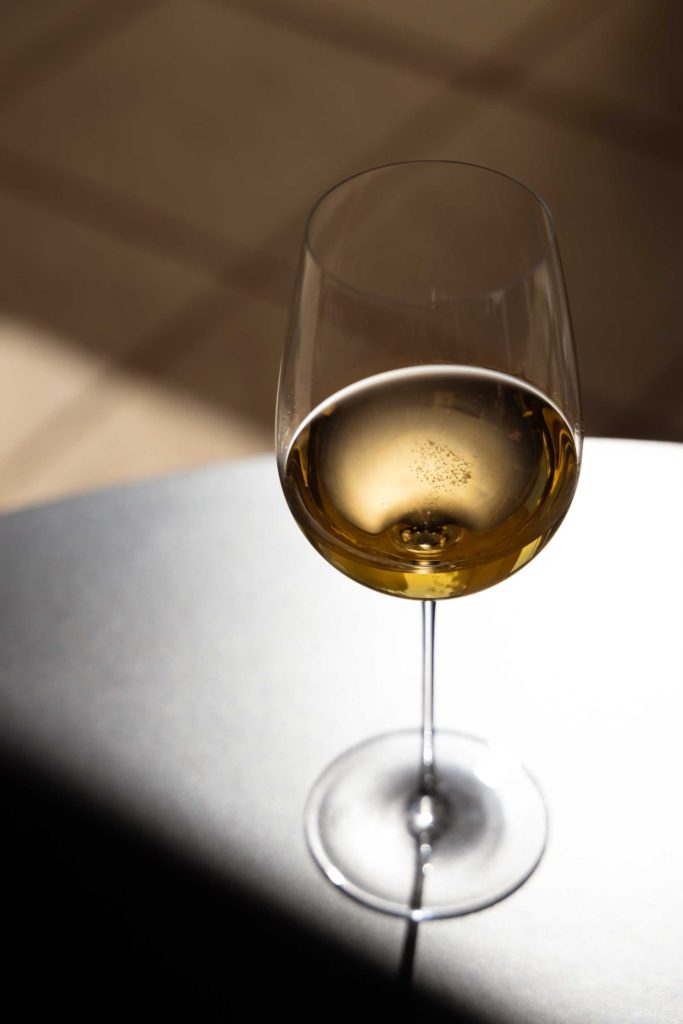 The world of mouth-blown glass is the alliance of expertise, tradition and innovation. How has Sydonios become part of this time-honoured skill, which is now part of Unesco's Intangible heritage?
In the 90s, French glassmakers decided to move upmarket by adding significant added value to their glassware. Big names such as Baccarat, Lalique and Saint-Louis.

To succeed, they decided to modernise production methods, and move away from some of the traditional skills, while retaining an artisan approach. It's a decision that paid off, and those who didn't follow suit are no longer here today.

In contrast, glassmakers towards eastern Europe have retained an entirely artisan approach. This is precisely what we aim to reintroduce in France. We are convinced that by attempting to make small gains in production, in the long term we will lose invaluable know-how.

From the very outset, our aim was to produce mouth-blown glass just as it was made 30 years ago in France. A new generation of entrepreneurs are keen to produce locally. During our research, despite visiting every single glass company possible, not one was capable of producing the quality of glass we were looking for, quite simply because this level of expertise no longer exists. It took us a long while to realise this.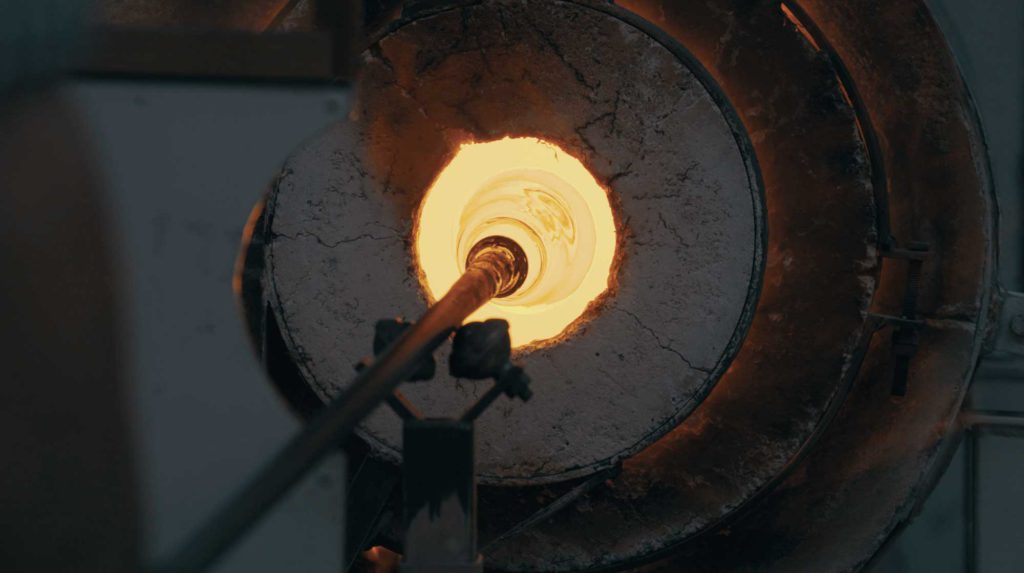 Why did you opt for mouth-blown glass rather than a more automated, industrial process?
I probably shouldn't say this but some manufacturers produce machine-made glass of great finesse. It's quite impressive and we are consequently seeing a gradual improvement in these processes, which could one day could attain the same level of quality as mouth-blown glass. For me, having a skilled craft is essential. If you don't know how to produce a glass by hand, you will never achieve the same finesse with machines.

Protecting artisan craft is embedded in the Sydonios DNA, and we are committed to safeguarding this skill. You only need to see the satisfaction on a glassmaker's face at the end of the day to understand. Successfully creating thirty perfect pieces is immensely satisfying; it's difficult to explain. At the end of the day, they are just happy.

In the past, glassmakers weren't particularly valued. Today, we are fortunate to be able to promote these skills. Human intervention is central to the process and offers endless creative freedom. In short, it's a form of independence.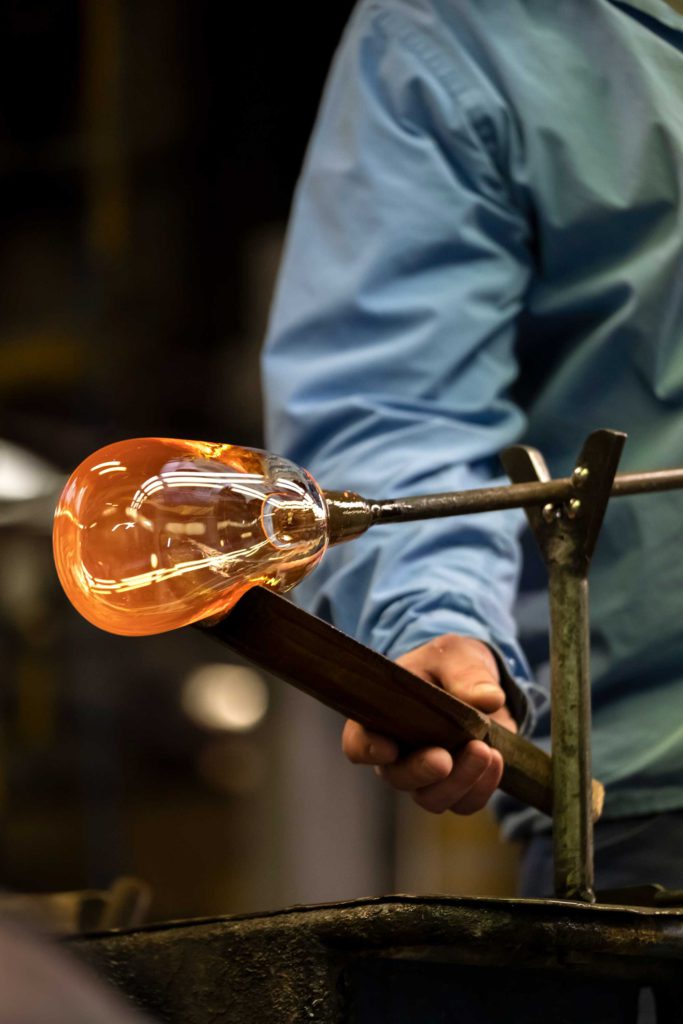 To achieve great finesse with machines, there are huge limitations in terms of design. Ultimately, your design will be more affected by technical constraints than by tasting considerations. At Sydonios, we endeavour to achieve this artisan aspect that offers infinite creative freedom. For our glassware, tasting has to remain the cornerstone of our design.
From Champagne Houses, growers and wine estates to Michelin-starred chefs and sommeliers, what kind of relationships have you established with these industry professionals? Are you in regular contact in order to improve the quality of your wine glasses?
It tends to depend on the individual appellation, whether we are close to a particular client, or a profession. Some of our clients say to us: "The glass must be like this, or like that". Unfortunately they have no idea of the amount of work this entails. Despite our artisan approach, producing mouth-blown glass is still craftsmanship at scale. Even the slightest modification leads to complications.

Whether working with a restaurant, sommelier or wine estate from whatever appellation, for us, the key element is remaining true to our guiding principles. We have to explain our approach rather than adapting to a clients' feedback, however prestigious they might be. Yet still remaining open to any comments and feedback we may receive.
How does Sydonios glassware influence the senses?
Once again, we come back to 'balance and finesse'. When you pick up a 70g glass, and the stem is only 4.2mm in diameter, and the whole glass is perfectly in balance, something just clicks. You know in advance that you are about to drink great wine.
This is also one of the keys to our success. When guests come to a top restaurant and drink a great wine from one of our glasses, they are suitably surprised, as much by the quality of the food as the quality of the glassware and discovering a brand of handmade, mouth-blown glass which is still relatively niche. And they will often ask the sommelier if they can buy the glasses at the end of their meal.
What is your relationship with time? And what role does time play in your creative output?
Production is unavoidably dictated by time. Creating mouth-blown glass involves a number of different stages. It takes three glassmakers over six minutes to take care of blowing and drawing the glass in extreme temperatures. This is followed by seven hours of reheating. Then two people are in charge of trimming the glass for a further 5-6 minutes.

Our relationship with time really revolves around the time taken by the glassblowers and those responsible for trimming the glass. Depending on the piece, up to six people can be involved in this handcrafted skill. When you hear someone say "it's just a glass", you have to take in to account all the workmanship from our teams behind the scenes.

With a few years' experience behind us, we finally have the luxury of time. Our company is more robust and viable. We have more time for our two main projects, relocating production and launching new products.

We have been working hard on our new production site for two years now. We don't have any financial backers. This is a luxury that means we can take our time and do things in a more organised, considered manner. It gives us the time to meet as many people as possible and share our expertise.

With regards to new product lines, we are about to launch a magnum wine carafe and a water glass. And in the same way, we took our time to design and craft these pieces with perfection our goal. To put this into context, it took a year to create our first glasses, which was relatively quick. For our new designs, we have taken twice as long, and maintained a much calmer approach.
Text – Geoffrey Chateau | Photo – Julien Gérard-Maizières andSydonios